First of all, thanks to everyone who'se entered our
competition
so far; we have had all types of crazy stuff coming through. In addition to the amazing drawings, people are making Jills out of cloth and lego and god knows what else! An incredible array of creativity on display! I guess people must really want these custom sneakers I'm going to make for the winner, and why wouldn't you, because when you rock these shits you will be the TALK OF THE TOWN
The competition is still WIDE OPEN. We're rewarding creativity as much as, if not more than, technical ability. You've still got until HALLOWE'EN. Don't forget to include your shoe size with your entry!
In other news, new friend
jeskabot
drew this picture of me marrying a mermaid: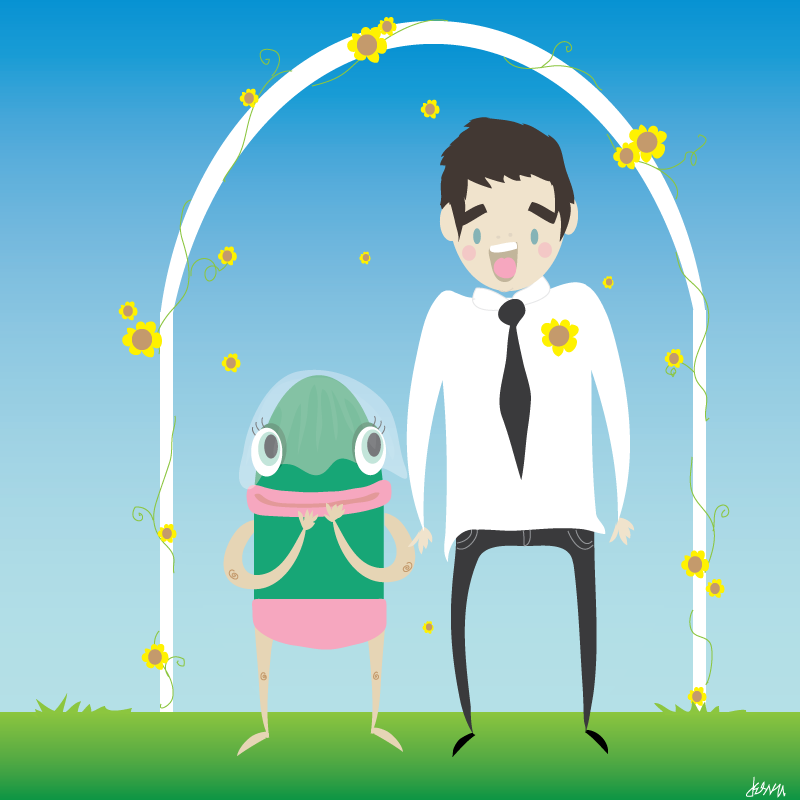 THAT MERMAID HAS GOT EVERY QUALITY I COULD EVER LOOK FOR IN A WIFE
Ok, here's today's lesson. Shall I carry on posting these day by day or would you prefer a big update at the end ofthe week? Let me know. This is the quickest one I've ever done; I had like an hour to make the whole thing. It is pretty jacked.
This was easily the most popular story I've done to date; In every class I taught today the kids actually asked me to go through this story twice, which was pretty cool. After I told the story, I asked the kids questions about what they'd seen, like:
-How many Korean cows were there?
-How many American cows were there?
-How many cows were there altogether?
-How many apples were there? (the apples are not actually mentioned in the story.)
It was fun!
Jin-su: Let's count Korean cows!
Eric: Ok!
J: How many cows?
E: 1, 2, 3, 4, 5....
E: I have 5 Korean cows!
J: Ok, Let's count pigs.
E: 1, 2, 3, ...
E:There are 6 pigs.
J: No! Eric! There are 3 pigs!
J: Let's count British cows!
J: How many cows?
E: 1, 2, 3, 4, 5, 6, 7, 8...
E: I have eight British cows.
J: Oh, good!
J: Let's count American cows.
E: OH NO! AMERICAN COWS are CRAZY COWS!
J: OH, NO!
J: Eric, no!
E: Umm, delicious!
E: Oh, no! Help me, please!
E: AAAAAAAAARRRGGHHH!
E: AAAAAAAAAAAAAAARRRGGHHH!
E: AAAAAAAAAAAAAAAAAAAARRRGGHHH!
BOOOOM!
B: ERIC!! ARE YOU OK?? OHHHHHH MYYYYY GOOOHHHHHHD!!!
J: No, he's dead.
J: Do you like hamburgers?